… in accordance with DIN 2353/ISO 8434-1
Hydraulic processes take their toll on connections – as do water, salt, acid, heat, impacts, vibrations and contaminants. On top of that, the air itself contains increasingly more corrosive components. Those are the environmental conditions that our carbon steel tube fittings are exposed to and for which they were manufactured; whether for shipbuilding, oil platforms, wind and hydroelectric power stations, railway technology, construction and tooling machines or mobile hydraulics.
What makes the difference is the zinc-nickel coating applied by Volz. It provides protection against corrosion that not only fulfils, but far exceeds the requirements of corrosion protection class K5 as stipulated in VDMA standard sheet 24576 for tube fittings. For you as the customer, the currently unmatched service life of the coating means:
Considerably less outlay and effort for exchange and maintenance without risking leakages and downtime.
Not only premium corrosion protection, but also a premium appearance.
Upon request we can also provide higher pressure ranges that afford you additional security.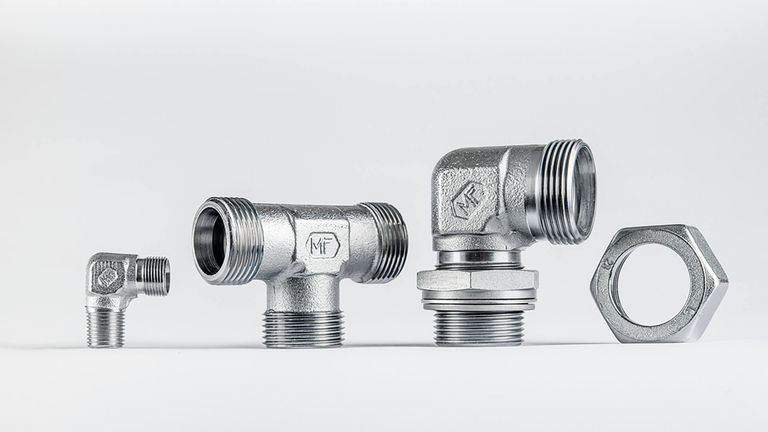 Our tube fittings showed no trace of red rust after 1,000 hours of salt spray testing in accordance with DIN ISO 9227. Your benefits from what is currently the best corrosion protection include:
Exceptional resistance (corrosion resistance > 1,000 hours)
High wear resistance
High temperature stability
Excellent overpantability
Reduced contact corrosion with other metals, such as aluminium; in the case of stainless steel extremely prolonged
Significantly reduced hydrogen embrittlement
Enhanced system performance due to superior ductility and surface hardness
Polished appearance
Reduced allergy risk
Compliance with REACH and RoHS requirements
Simply get in touch with us if you require ZnNi-plated carbon steel tube fittings!
We gave careful consideration to selecting what we believe is the optimal process. Acidic and alkaline zinc-nickel coatings and alternative corrosion protection treatments – for example those that omitted nickel and were purely zinc-based – were ruled out following comprehensive testing before we opted instead for a zinc-nickel either acidic or alkaline galvanic treatment based on the fitting design. The process involving a new processing sequence and new layer composition was the only one to meet our high standards in terms of corrosion protection.
First an approx. 8-µm-thick zinc base coat with a 12-15% nickel content and extremely homogeneous ZnNi molecule distribution is galvanically applied. Additional passivation with a layer thickness of around 500 nanometers is then subsequently applied, before a final 2-µm-thick sealing layer. These layers make the difference, protecting the ZnNi surface and consequently prolonging its corrosion-protective effect. The ZnNi layer is applied with a significantly improved chemical efficiency factor of approx. 98%. As a consequence, the problem of increased hydrogen formation is minimised. In comparison: the conventional process with its poor efficiency factor of just 40% or so can result in embrittlement of the substrate.