Not all stainless steels are created equal. To meet our own high standards and customer requirements we exclusively use high-quality European raw material (1.4571 (316Ti) stainless steel) and offer an extensive range of products:
Fittings:

Reducers and blanking plugs
Check and alternating valves
Diagnostic equipment
Components
French GAZ series
Technical details, CAD data and further information on individual solutions can be found in the Product finder
JIC couplings
SAE J514 and ISO8734-2
We offer more than just DIN: Do you operate systems all over the world? Perhaps you have customers in North and South America or in the Asia-Pacific region? Then we are well and truly the right partner for you. We also manufacture JIC fittings "Made in Germany" at our production facilities in Deilingen in accordance with our usual high quality standards. Naturally, we can supply you quickly and reliably via our distribution partners all over the world.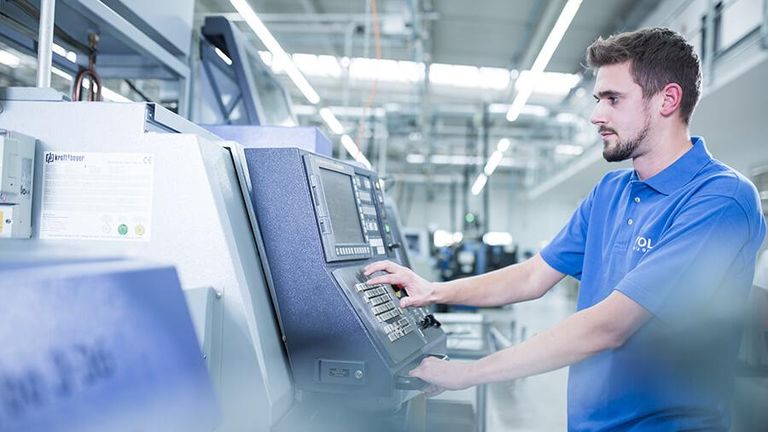 Hose fittings you can rely on ...
Volz stainless steel hose fittings remain leak-free even in adverse and high stress conditions. We supply our broad range of high-quality, stainless steel hose fittings to a variety of different sectors. Each and every day we manufacture a large quantity of various types. You gain both from our experience and major product benefits:
We deliver a complete range of hose fittings that are compatible with all standard hose types (EN, ISO, SAE) and brands. The fittings are also available in a variety of connection configurations.
In addition to universal and interlock hose fittings, we also offer individual crimp ferrules for various hose types (for example, braided hose, spiral hose, textile hose, PTFE hose, thermoplastic and custom solutions)
All Volz hose fittings, including swept bend fittings, are solid parts without any soldered connections. As a consequence, we avoid the hazard of cavities or contaminated soldered or welded joints, which in turn avoids any follow-up work and certification.
For high-pressure applications we also offer hose fittings with interlock blow-off prevention.
Stainless steel hose fittings for your application
Our hose connections often find application where specific requirements have to be met and frequently where industry-specific approvals are required. Our products have a particularly long service life, even under the extreme conditions in many application areas:
Wind energy plants
Processing plants (e.g. chemical, medical, process industry)
Shipbuilding and offshore technology
Remotely Operated Vehicles (ROVs)
Oil platforms
Railway technology
Machine tools and plastic processing machines
Mobile hydraulics (e.g. winter road maintenance vehicles)
Applications involving high temperatures or steam
Locks and hydroelectric power stations (turbines)
Paper production and processing
Plants for the production of biofuels